The Vineyard Gazette – Martha's Vineyard News
"Tell me, what are you going to do
with your only wild and precious life? "
These last two lines from Mary Oliver's poem Summer day are pasted, along with other inspirational snippets, on a board behind my computer where I can peek when I need a boost. At the start of the summer, I found myself drawn to them over and over again. I don't know if it's the shadow of the pandemic or my (um!) Old age, but more and more I want to make every minute count. Especially the summer minutes. Especially on a beautiful island where there are so many different opportunities to experience life.
It's easy for people all year round to be cranky in the summer; this is the time when many of us double our workload and it can be difficult to find the time to play. If you are a seasonal winemaker, you may also be under pressure; sometimes it seems like all you're doing is entertaining an endless parade of guests. (I say they go for a walk on their own!)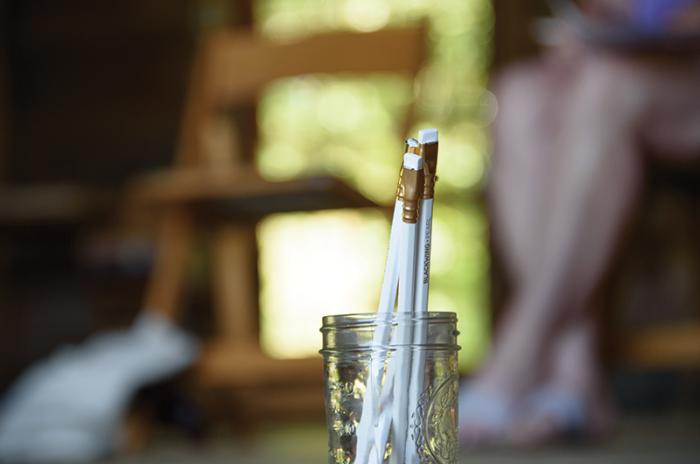 But what if you just pick one thing and spend some time on it this summer? Maybe something on your to-do list: learn to ride a horse or fly fishing. Walk the entire perimeter of the island (people do!) Or hike as many different hiking trails as possible. Maybe cover Chappy entirely on foot. Rental of a community garden plot. Take a course in papermaking or wool dyeing or pot turning. Dance lessons, tennis lessons, poetry workshop. Watch all the movies at one of the summer festivals. Tasting of an ice cream cone in every ice cream shop on the island. (I'll help you with that.) It doesn't have to be something big, just something you would really like to do.
With that in mind, I signed up for a drawing class a few weeks ago. (Specifically, Drawing from Life at Polly Hill Arboretum). I realize that an art class may not seem like the wildest, craziest thing to some. But I never took it. (Honestly, never. Or at least not as an adult. Well maybe a flower arranging class!) And I would really love to learn how to draw. I think this urge is an evolution of my passion for plants and gardening – and the beauty of this island. I would especially love to learn how to draw (and paint) the flowers I grow, partly to capture their fleeting beauty and partly to express my respect for them.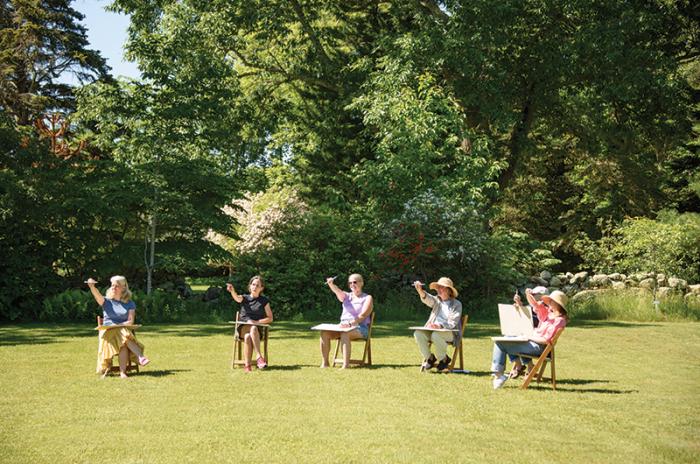 Also, Polly Hill makes me turn pale. Do not laugh ! I come back again and again to this historic farmhouse magically preserved with its unique botanical collection throughout the seasons. I don't need a lot of excuses to spend an hour there. But this time I had a good excuse – the class was taught by my friend, artist Lizzy Schule, who I know is a great teacher. Sold.
What I wasn't counting on was such a beautiful day – hot, dry and bright – and such a relaxed and absorbing vibe that I would end up having more fun than I had hoped for. The best part was learning. From our "classroom" in the distant barn (perhaps my most favorite structure on the island), Lizzy began a lesson in measurement and layout by having us use our cool Blackwing pencils (I mean, come on, who doesn't like new pencils?) to measure the height and width of the distant conifers that we could see through the open barn doors. With one eye closed, we held our pencils straight in front of us, elbows locked, and aligned the tip of the pencil with the tip of a tree. Using our thumbs, we marked the length of the tree on our pencils and wrote it down on paper. I felt my brain tingle as it began to work out a measurement scale and establish proportions.
Then we would pull out our folding chairs in the bright sun, walk across a wide lawn, and settle in for a structure we would describe. We started using our pencils for location and measurement, and I managed to put something on paper that was a little more three-dimensional and certainly more realistic than any house I've ever scribbled. But it was just a few squeaky lines.
And then, unfortunately, I had to leave. I admit, I signed up for the course knowing that I would have to leave halfway to go to work for a meeting (I had explained to Lizzy beforehand). The date and time of the class (which you can register for, class by class, all summer) doesn't really match my schedule. But again, hardly any date and time would! (I know what you are thinking, but maybe do what I say, not what I do…) But I don't let that stop me – I would like to go back, even if I can only stay one hour. This hour for me has been wonderful and captured a lot of what I find so amazing about the vineyard – being able to get out and enjoy nature so easily in a beautiful location while experiencing the gift of the talented people that we have on this island (especially artists) who are willing to share generously with us. I don't want to take this place and these opportunities for granted.
Or as Mary Oliver writes in Summer day :
I know how to be careful,
how to fall
in the grass, how to kneel
in the grass, how to be idle and blessed,
how to walk
through the fields,
that's what I've been doing all day.
Tell me, what else should I have done?
And if Polly Hill can start collecting plants at the age of 50, then I can learn to draw well, you know, at my age.
---
Susie Middleton is Editor-in-Chief of Vine and cookthevineyard.com.
For more information on Drawing from Nature or other summer programs at Polly Hill, visit pollyhillarboretum.org. For a variety of art classes, visit plumepierreart.org.